Painting Cape Ann Beautiful Since 2006
Why Choose Us As Your Preferred Painter?
Your Most Trusted Painting
Company In Cape Ann
Your Most Trusted
Painting Company
In Cape Ann
Interior & Exterior Painting Services
Your Most Trusted Painting Company In Cape Ann.
Burke & Crew Paintwrights specializes in both Interior and Exterior painting services.
Based in Gloucester Ma, Burke & Crew Paintwrights specialize in both interior and exterior painting. Our commitment to professionalism and exceeding expectations are just two reasons why our customers love us and continue to choose Burke & Crew for all their painting needs.
Our Customer Care Painting Process
Project Assessment & Partner Alignment
In this initial stage, we'll work with you to determine the scope of your home exterior painting project. We take pride in being very thorough. To ensure satisfaction, we'll talk with you about the size of your home, the amount of colors you'll be using, and the level of detail required.


Submit A Plan Of Action And Realistic Cost Estimate
Shady exterior painting contractors like to win your business lowballing you upfront and tacking on extra "service fees" when they send you the bill. When you work with Burke & Crew our experienced painters will give you an upfront estimate so there are no nasty surprises later.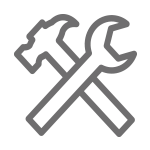 Execute The Plan And Provide Daily Updates
We know having contractors at your home — even the most professional of crews — can detract from your daily life. When you work with Burke & Crew, we'll keep you updated on a daily basis as to the status of your project, so you'll be constantly apprised of the situation.


Check For Quality Assurance


This is a key component of the entire process. Our painting crew keeps itself accountable to quality work. We constantly evaluate our work to ensure its done to the highest of standards. This is all part of our commitment to never making false promises; we honor our commitments.


Follow Up To Ensure Complete Customer Satisfaction
When it comes down to it, we care about our customers. That's why we go the extra mile to ensure you are completely satisfied with the work we've done. After your exterior painting service is complete, we will follow up with you to see how we did.


Once in a while you get very lucky, and a contractor does exactly what they say will do without any fuss or pain!I just had the exterior of my large Victorian house painted by Burke Painters. I asked for an estimate and the work was started and completed on time. The quality of the work which included carpentry to replace rotten wood was perfect in every respect and the house looks spectacular. The final charge was as estimated and there was no mess or damage to the property. If you need a paint job you will be pleased with my opinion.I cannot recommend this painting company highly enough and will be using them for the interior work.
Burke & Crew were recommended to me by a prominent Ipswich-based real estate broker. I owned a house that I was preparing for sale and was looking for targeted, time- and cost-effective painting for certain walls and ceilings. John responded promptly, made practical recommendations within my budget, and just a couple of days later his crew was at work. The initial work was completed in two days and under budget, so I asked them to put in another half day. The job came in on budget and both the amount and quality of work accomplished exceeded my expectations. Based on this experience, I would wholeheartedly recommend Burke & Crew.
Dear John, we are very grateful for the wonderful work that was provided for SeniorCare and for the attentiveness of your crew. Everyone was a pleasure to work with and the extensive interior painting was so well done.
All trademarks are the property of their respective owners. All company, product and service names used on this webpage are for identification purposes only. Use of these names, trademarks and brands does not imply any endorsement, affiliation or relationship with Top Rated Local or its affiliates.
The level of expertise brought to each and every project by our team is unmatched in Cape Ann and the Gloucester area. On every job you can expect professional painters that know how to handle any surface: interior or exterior, and always arrive at the job on time – with the right tools and a pleasant attitude.
Our success is tied to our level of care & respect for each client – our care for each client's needs and complete respect for their property. I know you'll be thrilled with our service and hope you will join our growing list of satisfied clients all over the north shore.
Get A Free Painting Estimate
Customers of Burke and Crew Paintwrights appreciate the advantage of being able to pay for professional services with their credit card. They decide on the amount they want to charge (all, or a portion) on a reward program card – and either earn travel miles or cash- back points. Doesn't get any better than this: the experience and satisfaction of a world-class paint job… AND the option of earning reward points too!